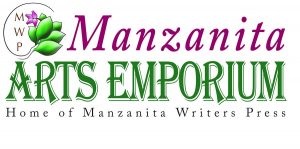 1211 S. Main St., Angels Camp, CA 95222 • 209-728-6171 • manzanitawp@gmail.com
manzanitaartsemporium.com • Hours: Wednesday through Monday, 11-5 – Publishing services for writers • manzapress.com   Manzanita Writers Press is a non-profit 501(c)3 creative arts organization & publisher devoted to the development and support of the literary, music, and visual arts community in Calaveras County and the wider Mother Lode region. Publishing Services: Nonprofit publisher, reasonable services in Editing, Book design and Layout, Book Publishing, Writer Support, Workshops & Classes. Contact us for an appraisal of your book project. We can help.
November 2019 Calendar
Spotlight on Sherrie Bloomer, Silversmith and Jeweler – November Artist of the Month: with an artist reception on Saturday, November 9 from 2–4 pm at Manzanita Arts Emporium, 1211 S. Main St, Angels Camp. Free event – Refreshments.
Mondays, November 4 & 18: Morning Manzanita Writers Unlimited Gather from 9 – 11:30 am in Angels Camp at Manzanita Arts Emporium. Journal writing and sharing, manuscript feedback with friendly fellow writers. All genres and levels, 18 & over. FREE. Email for information if it is your first visit, at manzanitawp@gmail.com.
Mondays, November 11 & 25: Evening Writers Unlimited from 6 – 9 pm in San Andreas (see website for location at 255 Lewis Ave). Email manzanitawp@gmail.com before attending, please. FREE  18 & over. All genres and levels welcome.  Manuscript and writing feedback on your works-in-progress. Camaraderie and writer friendship/support. Share your writing and get your projects done.
Paint Night with Mary Sexton –– Friday, November 22 from 6:30 – 8:30 pm – contact Mary for information and registration. 770-5818, marysexton@comcast.net – Reserve with $25 deposit before the class. $40 includes all materials and refreshments. ​
"Voices of Wisdom" Writing Classes for Seniors 55+ Free writing classes – Tuesday, November 5 Conrad Levasseur presents a hands-on Creative Journaling class, Part 2. On November 12;  Joy Willow presents Writing Silence and Pauses. On November 19, Donna Nunes shares: Writing About Family and Ancestors. On Nov. 26 the session is Ekphrasis – Combining writing and art – 1–3 pm  at Manzanita Arts Emporium, 1211 S. Main Street, Angels Camp 95222. Classes include ongoing writing instruction and prompts with support. Go to manzapress.com for more information. Classes hosted by Manzanita Writers Press are made possible with support from California Humanities, a partner of the National Endowment for the Humanities. Visit https://calhum.org – Publication of the 2018, 2019 & 2020 anthologies made possible with a generous grant from the Calaveras Community Foundation. Mark your calendars for Dec. 7 Celebration of VOW- San Andreas Central Library. Gala event and reading of Voices of Wisdom participants. 12-2 pm.
Tuesday, November 5 or 12 & Lab Nov. 19 – Instagram for Creatives – Class #1 or 2– 5:30-7:30 pm, Presented by Sherri Bloomer. $30 for session includes the Nov. 19 lab. Limited to ten participants in either Session1 or 2 – combined class for the lab on Nov. 19. Sign up with manzanitawp@gmail.com and reserve your spot.  Or call: 209-728-6171.
Zentangle Classes –  Sunday, November 17 – Watercolor Zentangles  5:30 – 7:30 pm. with certified Zentangle instructor and fabric artist Tisha Cabral – $30.00 per class – Sign up with the artist before the class date – czttisha@comcast.net or  tjoel2.tc@gmail.com
Song Posse meets Saturday, November 16 (Angels Night Out), 23, and 30 (Christmas Parade & wine stroll)- from 6:30 to 8:30 pm: Acoustic musicians share their talents at Manzanita Arts Emporium. Free. For more information, call Chrys at 209-728-1439 or 209-736-0210, or the gallery at 209-728-6171.
Saturday, November 30 – Angels Camp Christmas Parade and Wine Stroll. The lighted parade commences at 5:00 pm at St. Patrick's Church, showcasing a wide range of entries including Santa, floats, music, horses and vintage cars. Singing holiday songs around the piano with Song Posse at 6:30 pm! Manzanita Arts Emporium 4-Year Anniversary celebration! Help us share the JOY!
Book Launch & Reception Saturday, November 30, Monika Rose, Bed Bumps, new children's book – free storytelling for kids at 4:00 pm – right before the Christmas parade! Early reader for ages 3-8, with the author's illustrations and a delightful story about a little boy who discovers that his bed has been hiding lost treasures! Cookies and hot cider & cocoa for the kids!
Weekly Piano lessons with Chrys Mollett at Manzanita Arts Emporium. Sign up, for all ages. Family rates. Contact Chrys at 209-728-1439 or 209-736-0210, or gallery 209-728-6171.
Mark Your Calendars: Writers support meetings every Monday in December check website or FB events for times. Dec 16 Writers Block Party potluck – Voices of Wisdom Dec. 3, 10, 17 at 1-3 pm. – Dec. 7 VOW reading and celebration at San Andreas Library. Book Launch –Steven Archer's McCarthy Gold, Book 4 in his series. January 25- from 4-6 pm at the Fireside Room at Greenhorn Creek– PLUS! Angels Night Out, Dec. 21. Shopping until 8 plus food and music downtown! January 18, Book Launch 4-6 pm. – Cate Culver's The Untold History of Sonora Pass & Its People: 1860-1960. Dec. 14 – Vickie Mannix Featured artist reception 2-4 pm.