Berta's Beautiful Beads
Roberta's jewelry creations are made with a variety of components, including natural gemstone beads, sterling silver and 14K gold-filled beads and findings, lead-free pewter accents, and superior quality Swarovski elements.  Earrings, necklaces, and bracelets are created using inspiration found in the natural beauty of the historic region known as "The Gold Country,"  where scenic foothills provide endless opportunity for observation of color, shape, and design.  Her jewelry features excellent quality of construction, and affordable pricing because every woman deserves to have beautiful jewelry!
Biography of Roberta Hughes
"Berta's Beautiful Beads"
I grew up in San Francisco, in a family with eight children.  We spent a lot of time outdoors, and it was there that I learned to appreciate color, shape, and details of everything visual.  At the beach, zoo, or Golden Gate Park, or simply walking down any city street, it was a fascinating world to explore.  Sometimes I would study patterns on a single leaf, or watch the waters of the Pacific Ocean change color when passing clouds drifted overhead.  Homes in San Francisco were constructed with "old world" craftsmanship, and it was easy to lose myself for hours in the visual delight of woodworking details, or architecture of buildings, or paint colors.  There were also endless opportunities for examination of color, shape, and detail by watching throngs of people that were in constant motion in the bustling city, and I enjoyed becoming a quiet observer of that world.  I believe that all the wonderful time spent outdoors as a child contributed to development of creativity and my ability to notice visual details.
For as long as I can remember, I've loved colorful beads.  My mother was a traditional sort of woman, and steadfastly refused to grant permission for me to have pierced ears when I was young, so I found a way to circumvent conservative rules by gluing tiny beads together on a piece of waxed paper, in shapes of colorful flowers.  After they were dry, I would glue them to my earlobes with Elmer's glue.  My mother laughed when she saw what I had done, and let it go.
Elmer's glue was okay.
Throughout the years my creative leanings were always there, and after my husband passed away suddenly in 2002, I began dabbling in beadwork again.  It was a hobby that helped to quiet grieving thoughts in the early years after his death, and it slowly evolved into a jewelry business.  I began creating jewelry for solace, stashing it away in the closet for a long time.  One day I opened up the closet and realized that I'd better start giving it away as birthday gifts, because my storage was running out of space.  After that, some friends suggested that I do a "home party" to sell some of my creations, and soon I was doing multiple parties for different groups of women, on a regular basis.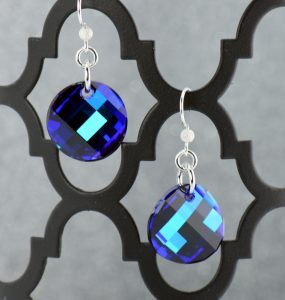 I maintain an online Etsy shop, utilizing Etsy software.  It's something I've wanted to do for a long time, but there were things I had to learn and study first.  I took a class to learn how to photograph jewelry for the Internet, and spent months practicing with the camera before figuring it all out.  It was an exciting challenge to learn how to utilize Etsy software, and the end result has been very positive.  (www.etsy.com/shop/BertasBeadsJewelry)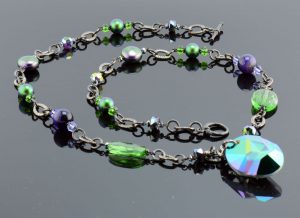 "Manzanita Arts Emporium"   is an exciting venture that combines many aspects of art, literature, and education into one beautiful place located in the heart of the historic district.  I've built two display cabinets and filled them with a good selection of jewelry that represents my lifelong love for beads.  Having space in a shop to display my creations is a dream come true!