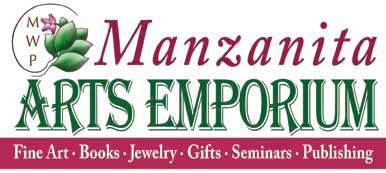 at 1211 South Main Street
(kitty-corner from the Visitors Center).
You'll find a warm environment where creative workshops and events
are happening and you'll marvel at the gallery of contemporary arts.
The Emporium is open 6 days a week from 10 am – 5 pm (closed on Tuesdays).
Come join us in artful collaboration.
209-728-6171
Now Showing in the Gallery
Manzanita Arts Emporium showcases the art of these fine artists :
Gary Rose, Mountain Ranch – Hard-edge Design acrylic wall sculpture – wood or canvas, large geometric abstracts
Roberta Hughes, Sutter Creek – Handcrafted jewelry – beads, crystal, sterling silver settings, pendants, and more
Kevin Brady, Mokelumne Hill – watercolors, cartoon art, acrylic – framed work, prints, cards
Ty Childress, Mountain Ranch – Photography – framed and matted prints- scenic, landscape, rural whimsy, regional and national sites, cards
Patty Payne, Sheep Ranch – Equestrian and bovine framed art – large canvas/acrylic, natural frames from Mother Lode wood, prints, cards
Chrys Mollett/Aeolian Harp, Murphys  – Piano and music lessons, ukuleles, guitars, violins, strings, music, CDs and more – folk instruments, open mic Saturday night at Vino Metate 1259 Main Street, Angels Camp
Selma Sattin, Copperopolis – Framed Watercolors, cards, prints
Cristi Canepa, Angels Camp – Photography on metal, prints, and more
Mary Sexton, Angels Camp – Acrylic, watercolor, oils – prints and framed pieces, cards, inspirational signs
Robert Stickley – Original Pastels, prints
Wanda Macioszek, Glencoe – Fine metalwork – trees, fish, nature scenes, and more
Paul Neal, Valley Springs – Photography – floral, scenic, Mother Lode scenes, nature's captured moments
Robert Tomaino, San Andreas – Nature illustrations – ducks, dogs, mountain men, historic- cards
James Aarons, Mokelumne Hill – Ceramic abstract bowls
Susie Hoffman, Copperopolis – Watercolor, oil, prints, cards
Judie Cain, Murphys – Watercolor prints, cards
Cate Culver, Tuolumne City – large abstract acrylics, cards, matted prints
Randall Metzger, San Andreas – organic, natural scented candles
Joyce Kelly – Photography – Picturesque cards, seasonal cards, matted prints, framed prints