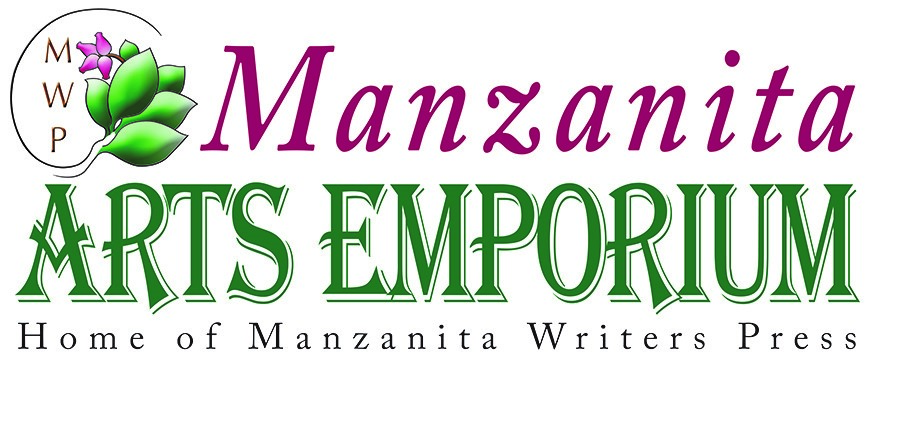 Angels Camp, CA 95222 • 209-728-6171 • manzanitawp@gmail.com
manzanitaartsemporium.com • Hours: Wednesday through Monday, 11-5 – Publishing services for writers • manzapress.com   Manzanita Writers Press is a non-profit 501 (c) 3 creative arts organization devoted to the development and support of the literary and visual arts community in Calaveras County and the wider Mother Lode region.  Classes  – Workshops – Artist Cooperative – Literary and Arts Center – Bookstore
September 2018 Calendar
Monday, September 17 (no Labor Day meeting): Daytime Writers Unlimited Meeti1ng in Angels Camp at Manzanita Arts Emporium, from 9 to 11:30 am. Writing exercise and sharing, manuscript feedback with fellow writers.  Join the group – 18 & over. FREE.
Mondays, September 10 and 24: Writers Unlimited Evening Meetings in San Andreas (see website for location), from 6 to 9 pm. Email manzanitawp@gmail.com for information. FREE.
"Voices of Wisdom" Writing Classes for Seniors 55 + continues on Tuesdays, September 4, 11, 18, 25 at the Community room, in San Andreas, 1330 Calaveritas Road, from 1 to 3 pm.  FREE program. Bring a laptop, notebook, or other writing materials. Contact manzapress.com for calendar information, times and location. Publication of a 2019 anthology will be made possible by a generous grant from the Calaveras Community Foundation. Classes hosted by Manzanita Writers Press.
Friday, September 21, from 6 to 9 pm: "Sip 'N Paint with Artist Mary Sexton." $45 cost covers all painting materials and complimentary wine. Manzanita Arts Emporium, 1211 S. Main St, Angels Camp 95222. To reserve a space, contact marysexton@comcast.net or call 209-770-5818, or go to manzapress.com for information, or call 209-728-6171. This class fills quickly, so make a reservation today.
Saturdays, September 22 and 29 from 6 to 8:30: Song Posse meets for evenings of acoustic music sharing, poetry, and storytelling. Manzanita Arts Emporium, 1211 S. Main Street, Angels Camp 95222. Free. For information, call Chrys at 209-728-1439 or 209-736-0210, or gallery at 209-728-6171.
Sunday, September 30, from 4-6 pm. Story Swap hosted by Mother Lode Storytellers Guild and Manzanita. Join in the storytelling fun with a shared story from your past or present. Make it up if you like. The topic is School Days. Free.
Shop Local, Shop Manzanita, First Fridays October 5, November 2, December 7: Holiday shopping for friends and family in a welcoming environment that offers endless opportunities to gift with imagination. Ideas for all ages include wall and table art, books galore, custom-designed jewelry, curios and keepsakes, cards and musical instruments. Manzanita Arts Emporium, 1211 S. Main Street, San Andreas 9522. Shop doors remain open until 8 pm. For more information, go to manzanitapress.com or email manzanitawp@gmail.com.
Weekly Piano lessons with Chrys Mollett at Manzanita Arts Emporium. Sign up for all ages. Contact Chrys at 209-728-1439 or 209-736-0210, or gallery 209-728-6171.
Mark your Calendars!
First Fridays, Oct. 5, Nov. 2, Dec. 7
Saturday, October 20, from 10-5 pm. Mark Twain Wild West Fest. Cowboy Poetry and Tales, hosted by Manzanita. Artists and writers have their creations ready to sell at the booths in front of the emporium.
Tuesday, October 30, from 6:30-8 pm. Viking Lore and Traditions – warfare, cultural life, and more. Eric Smith, historian and speaker, will dispel some myths about Vikings and share his knowledge. Free to the public.
November – Barry Boulton of the Audubon Society will speak. Topic, date, time TBA. Free.
November 24 – Angels Camp Parade and Wine stroll on Main St.-  5 pm until 8 pm. Shopping time!