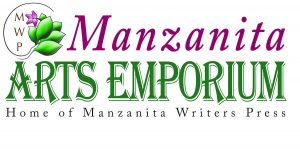 1211 S. Main St., Angels Camp, CA 95222 • 209-728-6171 •manzanitawp@gmail.com
manzapress.com• Hours: Wednesday through Monday, 11-5 – Publishing services for writers • manzapress.com
Manzanita Writers Press is a non-profit 501 (c) 3 creative arts organization devoted to the development and support of the literary and visual arts community in Calaveras County and the wider Mother Lode region.
Classes  – Workshops – Artist Cooperative – Literary and Arts Center – Online Bookstore
January 2018 Calendar
January 2018 CalendarJanuary's Featured Artist is Gary Rose of Mountain Ranch, He offers Hard-edge Design acrylic wall sculptures in wood and canvas, displaying icons or symbols of the artist's experiences expressed through elements of light, color, form, line, and space.  His artwork reflects the American tradition of organic, mechanical, and architectural majesty.
Saturday, January 13: Free reception celebrating Featured Artist Gary Rose from 4 to 6 pm at Manzanita Arts Emporium. Gallery visitors can enjoy refreshments and hors d'oeuvres while viewing the artist's strikingly iconic wall sculptures. The artist will talk about art movements and influences on his work.
Mondays, January 15 and 29: Daytime Writers Unlimited Meeting in Angels Camp at MAE from 9-11:30 am. Writing exercise and sharing, plus manuscript feedback with fellow writers. Craft sharing, resources, editing by colleagues all available. Join the group – 18 & over. $35 annual membership provides networking, marketing, facility privileges. Meetings free.
Mondays, January 8 and 22: Evening Writers Unlimited Meeting in San Andreas at the Volunteer Center location, 255 Lewis Avenue from 6-9 pm. Share work, prose and poetry, of all genres and levels, with kind writers. Craft exchange, resources, editing by colleagues all available. Sign up to be a Writers Unlimited Member – 18 & over with writer networking benefits. $35 annual membership. Meetings free.
Tuesdays, January 9, 16, 23 and 30 from 2 to 4 pm. Voices of Wisdom: Preserving the Stories of  Our Elders, a free weekly writing class series designed for 55-plus seniors, continues with instructor Monika Rose. Participants write toward finished essays or memoir pieces for publication. Sign up by calling Manzanita Arts Emporium at 728-6171 or email at manzanitawp@gmail.com. FREE. January location: Manzanita Arts Emporium. The writing program is made possible by a generous grant from the Calaveras Community Foundation.
Friday, January 19 from 6 to 9:30 pm: "Sip 'N Paint with Artist Mary Sexton."
$45 cost covers all painting materials and complimentary wine. Participants enjoy a relaxing group setting where painting is an activity that allows stress to disappear and worries to fade. To reserve a space, contact marysexton@comcast.net or call 209-770-5818, or sign up with a card for art classes or call 209-728-6171. This class fills quickly, so make a reservation today. Go to manzapress.com or sign up HERE.
Saturdays, January 13, 20 and 27, from 6 to 8:30 pm: Song Posse meets for evenings of acoustic music sharing, poetry, and storytelling. No need to make a reservation, come in to participate or listen. For questions or directions, call Chrys Mollett 209-728-1439 or 736-0210, or MAE 728-6171.
Weekly Piano lessons with Chrys Mollett at Manzanita Arts Emporium. Sign up for all ages. Contact Chrys at 209-728-1439 or 736-0210, or MAE 728-6171.
Saturday, January 20, from 6:30 to 8 pm: Scott Thomas Anderson, author and reporter, presents Multimedia Distractions, a public awareness talk about media impact on literacy and the brain. Educators, students, parents, youth, and the general public need to hear about the dangers of social media and electronic devices in relation to learning and reading. Free. Reservations: email manzanitawp@gmail.com or  call 209-728-6171.
Tuesday, January 23, 4:15 to 6:30 pm: Build Your Website Using WordPress: Dale Baker will help you set up your new website or switch to your own self-sufficient site online. Take charge of your own web information and updates. Ongoing support available. Limited class enrollment. $30. Enroll online or by check. Use a credit card to sign up or Mail to MWP: PO Box 460, Angels Camp, CA 95222 or drop by the gallery.