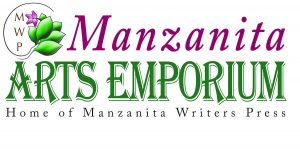 1211 S. Main St., Angels Camp, CA 95222 • 209-728-6171 • manzanitawp@gmail.com
manzapress.com• Hours: Wednesday through Monday, 11-5 – Publishing services for writers • manzapress.com   Manzanita Writers Press is a non-profit 501 (c) 3 creative arts organization devoted to the development and support of the literary and visual arts community in Calaveras County and the wider Mother Lode region.                                Classes  – Workshops – Artist Cooperative – Literary and Arts Center
December 2017 Calendar
December's Featured Artist: Aeolian Harp's Chrys Mollet features her imaginative oil and acrylic paintings and cards, as well as varied musical instruments and musical talents.
December 9: Free reception celebrating Chrys Mollett Music from 4 to 6 pm at Manzanita Arts Emporium. Gallery visitors can enjoy refreshments and hors d'oeuvres, then stay for holiday singing and music with the Song Posse starting at 6 pm.
Sunday, December 3, from 1 to 3:30 pm: "Decorate Your Holiday Table with Nicki Radisich." Organic gardener Nicki Radisich leads a workshop in creating stunning fresh foliage displays for the finishing touch to holiday decorating. Cost of $45 includes all supplies in a wide array of materials. Call (209) 728-6171 or email to reserve a spot.
Monday, December 4: Daytime Writers Unlimited Meeting in Angels Camp at MAE from 9-11:30 am. Writing exercise and sharing, plus manuscript feedback with fellow writers. Craft sharing, resources, editing by colleagues all available. Join the group – 18 & over. $35 annual membership provides networking, marketing, facility privileges. Meetings free. Only one morning meeting this month due to the holidays. We resume regularly scheduled meetings in January.
Monday, December 18: Evening Writers Unlimited Meeting — Due to the holidays, we're only having one festive evening meeting this month at the Hotel Leger and sharing of a wintry piece—poetry or prose, and a sharing of writing goals for the 2018.  6-9 pm at the Hotel Leger in Mokelumne Hill. Regular meetings, 2nd and 4th Mondays, will resume January 8 in San Andreas at the Volunteer Center location from 6-9 pm.
Tuesdays, December 5, 12, and 19 from 2 to 4 pm. Voices of Wisdom: Preserving the Stories of Our Elders, a free weekly writing class series designed for 55-plus seniors, continues with leader-instructor Chrys Mollett with a focus on music as a stimulus for deep memory retrieval. Participants take all sessions in a month and write toward a finished essay or memoir piece. Each class is capped at 16, so sign up by calling Manzanita Arts Emporium at 728-6171 or email at manzanitawp@gmail.com. FREE. December location: Manzanita Arts Emporium. The writing program is made possible by a generous grant from the Calaveras Community Foundation.
Friday, December 15 from 6 to 9:30 pm: "Sip 'N Paint with Artist Mary Sexton."
$45 cost covers all painting materials and complimentary wine. Participants enjoy a relaxing group setting where painting is an activity that allows stress to disappear and worries to fade. To reserve a space, contact marysexton@comcast.net or
call 209-770-5818, or sign up with a card for art classes or call 209-728-6171. This class will fill quickly, so make your reservation today. Go to manzapress.com and click on the art classes tab.