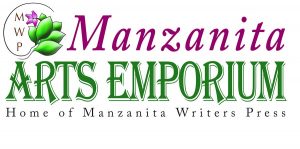 1211 S. Main St., Suite 110, Angels Camp, CA 95222 • 209-728-6171 •  Hours: Wednesday─Monday, 11-5 – Publishing services for writers • Classes – Lectures – Workshops– Artist Cooperative – Literary and Arts Center manzanitawp@gmail.com
www.manzapress.com
June 2017 Calendar
Hours at MAE Gallery: Visit us Wednesdays through Mondays from 11am-5pm.
Call for Mother Lode regional artists: Room for one more artist to place his/her work at MAE; contact the Gallery at manzanitawp@gmail.com or 209-728-6171.
Mondays, June 5 and 19: Daytime Writers Unlimited Meetings in Angels Camp at MAE from 9-11:30 am. Writing exercise and sharing plus manuscript feedback with fellow writers. Craft sharing, resources, editing by colleagues all available. Sign up to be a Member – $35 annual membership begins June 1, 2017.
Mondays, June 12 and 26: Evening Writers Unlimited Meetings in Angels Camp at MAE from 6:00-9:00 pm. Share work, prose and poetry, and all genres and levels, with kind writers. Craft exchange, resources, editing by colleagues all available. Sign up to be a member―$35 annual membership begins June 1, 2017.
Thursdays, June 1, 8, 15, 22, 29 from 11 am–noon. TWAIN TALKS with Jim Fletcher, historian and author of Mark Twain's 88 Days in the Mother Lode, who shares historical information about    Mark Twain's life, particularly the short time that Twain spent in the Mother Lode. FREE.        
Friday, June 16 – Spring Book Launch for Entente, Stephen Archer's second book in his Irish Clans series, at Greenhorn Creek Fireside Room in Angels Creek. This free event, from 5:30 to 7pm, was held in the Fireside Room.
Saturday, June 17 – Manzanita Writers Press hosted California Poet Laureate Dana Gioia at the Angels Camp Museum Carriage House from 12-4 pm. Light beverages and snacks at noon. No-host wine by the glass and hors d'oeuvres from 2:30-4:30. The event was FREE, but donations will still be accepted to support Butte Fire publications and website, and other MAE projects. Everyone welcome.
MWP's new print anthology, Out of the Fire, launched that day at the event and books are available for purchase. Sponsors and contributors could pick up their complimentary copies at the event. Contributors were present to read and share their work. Photographers and artists who are featured in the publication had photos and prints available for sale. Come help us celebrate! Sponsors for the event were Manzanita Writers Press, Calaveras Chronicle, Angels Camp Museum, Ironstone Vineyards, Signal Service, and the Calaveras County Library.
Save the date:  Sip 'n Paint Art Class with Mary Sexton – Friday, July 14 – 6 PM-9:30 PM – Call to reserve your spot or pay in advance to be sure – $45 with all materials provided for your masterpiece – 209-728-6171   Sign up now.
Save the date:  Photography composition and the triangle, a photography class with Cristi Canepa, Wednesday, July 19, from 6:30 to 8 PM. at Manzanita Arts Emporium, 1211 S. Main St., Angels Camp, CA 95222 – call to reserve or just pay online at the link.  209-728-6171 – manzapress.com
Let us know about your interest in the following proposed classes:  cellphone photography and settings, nature journaling at Big Trees with a naturalist, Ins and Outs of the WORD program – for writers and all levels, cellphone movie-making, Getting to know photoshop, caricature and cartooning from sketch to watercolor, photography composition, and more. Let us know which classes you would be interested in.
Manzanita Writers Press is a non-profit 501 (c) 3 creative arts organization devoted to the development and support of the literary and visual arts community in Calaveras County and the Mother Lode region.