Friday, August 18 from 6 – 9:30 pm – Mary Sexton art class – Sip n Paint –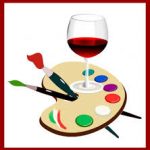 Advance Your Photography – Repeat of the last session for those who missed it.  Each month a new topic for classes.
 Sunday August 27- 4-:30-6 PM –  $25 Limited enrollment–
Title: Advance Your Photography
Cost: $25 per person
Date: Sunday, August 27
Time: 4:30-6:00 pm
Description:
Are you ready to take your photography to the next level? Are you ready to get out of Auto Mode? Local Landscape Photographer, Cristi Canepa (Sally Mae Photography) will cover the basics of understanding the exposure triangle (Aperture, Shutter Speed and ISO) and teach you some tips on composing your photographs.
Bring your enthusiasm and your camera!