A 501(c) 3 nonprofit corporation dedicated to the literary, historical, visual, and musical arts of the Mother Lode and Sierra region, based in Calaveras County
It was a hoot! Rip-roarin' fun and information.
Manzanita Writers Press Presents
Event: Guess Who Visited Story Round Up Last Friday
Location: Manzanita Writers Emporium, 1211 So. Main Street, Downtown Angels Camp
Contact: Manzanita Arts Emporium (209) 728-6171
Guess Who Visited Manzanita Arts Emporium
Last Friday, October 20, was a busy day in Historic Downtown Angels Camp. The whole town was getting ready for the second annual Mark Twain Wild West Fest on Saturday, and Manzanita Writers Press was presenting its Story Round Up day of workshops. Amid all the sprucing up of streets and shops to welcome locals and out-of-towners alike to this year's celebration of Mark Twain's influence on Calaveras County's history and culture, two gentlemen stepped in the door of Manzanita Arts Emporium at 1211 South Main Street. What a grand surprise for gallery visitors because the two were none other than Mark Twain and his boon companion Ernie Sites, the famous cowboy poet all the way from Idaho.
Pat Kaunart, widely known and respected Mark Twain re-enactor, and Ernie Sites, dubbed "the cowboy troubadour," lost no time in finding a comfortable seat and proceeding to regale everyone with tales and reminiscences brimming with colorful exaggerations and jokes that entertained the group, several of whom participated with their own fantastic tales. In his Mark Twain persona, Kaunert took great pleasure in relating a story regarding an unexpected rattlesnake infestation and other witticisms of particular interest.
His guitar in hand, Sites delighted everyone present with favorite selections, as well as one song he hasn't yet published. With perfect timing he told a "boomerang" story that drew chuckles from audience and Mark Twain alike.
The gentlemen's conversation provided an afternoon of wholesome entertainment for all ages. The ladies present thoroughly enjoyed Pat Kaunert's Mark Twain tales and were touched by Ernie Sites' poetry and songs that carry on the Western cowboy tradition in music.
The time with Pat and Ernie was all too short, and their audience looks forward to the next time they come to town for Angels Camp's Mark Twain Wild West Fest and a visit to Manzanita Arts Emporium.
Manzanita Writers Press, located at Manzanita Arts Emporium at 1211 S. Main St., Angels Camp, is a non-profit 501(c)3 creative arts organization devoted to the development and support of the literary and visual arts community in Calaveras County and the wider Mother Lode region. In the photo below, notice Kevin Brady's art work. That Vetruvian Frog by Kevin Brady next to ole Mark Twain is a kick. So is the Frog's Last Supper that you can't see, right behind Ernie Sites. Imagine a Da Vinci masterpiece, only in frogs. Thanks, Kevin!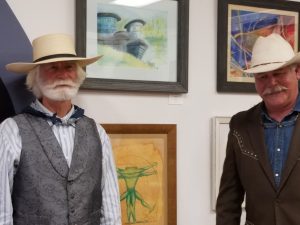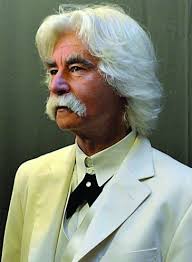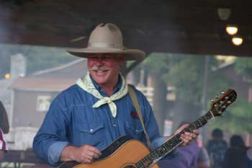 Friday, October 20 – 9 am to 4:15 pm
At Manzanita Arts Emporium 
1211 S. Main St., Angels Camp, CA 95222
$35 for the day
Reserve your spot: manzapress.com
(209) 728-6171 – manzanitawp@gmail.com
Schedule for the Day
 9:00-10:30 – The GetSmart Group, popular Facebook marketing company of Angels Camp presents:   "Facebook Marketing—Telling and Selling Your Story" for writers and artists, entrepreneurs, businesses, and others.
10:30-11:45 –  Manzanita Writers Press Editors-  Preparing your story for publication – Manuscript tips, information.
11:45-1 pm – Lunch on your own in local restaurants or bring your own
1-2:00 pm – Pat Kaunert as Mark Twain: Presents Storytelling and Yarn spinning in the Western Tradition with Mark Twain
2:00-3 pm – Yodeling cowboy and storytelling poet Ernie Sites presents "On the Trail with Ernie Sites Cowboy Poetry"  Ernie Sites shares some of his talent in cowboy poetry storytelling techniques – He will be a featured performer at the Mark Twain Wild West Fest in Angels Camp, Oct. 21. Thanks to Angels Camp Business Association and Destination Angels Camp for bringing Ernie Sites to the Mark Twain Wild West Fest and Story Roundup in Angels Camp!
3-3:15 Short Break
3:15-4:15 pm – Chrys Mollett – Discover Your Voice – poet and songwriter/musician Chrys Mollett will share strategies in developing your style in writing song lyrics, poetry, and storytelling.
Cost for the day: $35/person – both morning and afternoon workshop sessions.  At Manzanita Arts Emporium, 1211 S. Main St., Angels Camp, CA 95222 – 209-728-6171  – Proceeds will help fund two of our public programs for the community: Voices of Wisdom: Preserving the Stories of Our Elders – free writing classes for 55-plus seniors, stimulating the expression of memories and publishing of stories for community enrichment– and Out of the Fire: anthology and website dedicated to telling the stories of the Butte Fire and its aftermath and providing insights into the nature of the beauty and risks of living in a Mother Lode and Sierra environment—as well as the resilience of communities in coping with tragedy.
No-host Dinner at Camps with Ernie Sites and Pat Kaunert – cocktails at 5 – dinner at 6 – $35 (separate from the Roundup activities)  Proceeds help support Voices of Wisdom and Out of the Fire programs.
Another event happening in the evening at MAE: Reserve your spot for the evening's Sip n Paint with artist Mary Sexton – 6-9 pm – $45 includes all materials.