Welcome to
Manzanita Writers Press!
Whether you are a writer, an avid reader, or are ready to publish your book, you've come to the right place. Manzanita Writers Press is a Publisher and a member of the Literary League of the nonprofit arts organization, the Calaveras County Arts Council. We bring writers, readers and artists together through workshops, anthologies, book publishing, referrals and events. We are a growing literary publisher in the Mother Lode region of California. Our location in the scenic, rural Sierra Nevada foothills of Calaveras County is inspirational to the many writers who reside here and in the surrounding rural counties.
Manzanita Writers Press has published 12 books, with several more planned for 2016. We have organized countless readings, workshop and events in the region and have held writing contests, and promoted the literary arts in Calaveras, Amador and Tuolumne Counties. Manzanita publishes works by regional writers and those with a connection to the Mother Lode. It also prints Manzanita: Poetry and Prose of the Mother Lode and Sierra, a series of literary publications. Our latest anthology, A Taste of Literary Elegance: Wine, Cheese and Chocolate, and our other publications are available for purchase on our website and through Amazon and Small Press Distribution in Berkeley, CA.


GUITAR LESSONS WITH
GORDON ROWLAND
Take private guitar lessons with concert guitarist and teacher, Gordon Rowland at MAE. Click on the above photo for more details. Schedule your lessons with Gordon on Mondays or work out another time.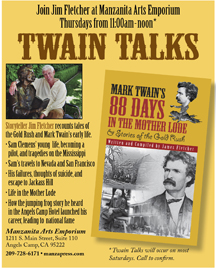 Join Storyteller-Author Jim Fletcher at the Emporium any Thursdays at 11:00 am for
TWAIN TALKS


HOT OFF THE PRESS!
Searchers:
The Irish Clans
Book One of Four Novels
By Stephen Finlay Archer
The Irish Clans is an epic saga of four novels immersed in the tumultuous Irish revolutionary period of 1915 through 1923 while the world is embroiled in the Great War to end all wars, and its aftermath. The McCarthy and O'Donnell Clans, once mighty, were overthrown, but are not extinct. They are linked on two continents by a crafty medieval pact, entiwined in religious and military history, utilizing Clan relics steeped in mythology. this hidden pact and its secrets can only be revealed to the Clans by Divine intervention when the Gaelic heritage is ripe for its second coming.
There's a new creative scene in downtown Angels Camp.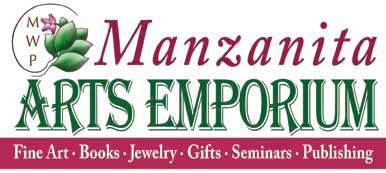 at 1211 South Main Street
(kitty-corner from the Visitors Center).

You'll find a warm environment where creative workshops and events
are happening and you'll marvel at the gallery of contemporary arts.
The Emporium is open 6 days a week from 10 am - 5 pm (closed on Tuesdays).

Come join us in artful collaboration . . .
Manzanita Writers Press relies on you generous donations to keep our mission alive.
Click on the button below to make a donation online. Thanks for your generosity!
Writers Unlimited is a  gathering of authors who bring their work for peer feedback. The group was founded in 1984 by Monika Rose and has published five Manzanita volumes and an additional three Journal volumes. With the formation of Manzanita Writers Press in 2009, the Manzanita series and other books are now published by MWP, Manzanita Writers Press, a member of the Calaveras Arts Council Literary League.
Meeting Information
Evening Meeting Times:
Every 2nd and 4th Monday
6:30 until 9:30 pm
Mokelumne Hill Library
Main Street
(right side, near the end of the street).
Every 1st and 3rd Monday morning at 10 am
Manzanita Arts Emporium
1211 South Main Street
Angels Camp, CA 95223

There will be no writers meetings on holidays such as Christmas and Christmas Eve, Thanksgiving, Memorial Day, Labor Day, etc.

Evening meetings: Snacks are brought and shared by the collective.  Bring your own bottled water or beverage, although cold water from an indoor fountain is available. You must email Monika ahead to let her know you are planning on coming as seating is limited.  Also, you should attend a couple of sessions before your work is approved for manuscript review. Longtime members receive priority for manuscript review. There is a manuscript and review protocol.  
Contact: Monika Rose, facilitator
mrosemanza@jps.net  
(209) 728-6171
MANZANITA ARTS EMPORIUM
1211, South Main Steet
PO Box 460
Angels Camp, CA 95222
Hours:
Wednesday through Monday, 10am - 5 pm
Closed on Tuesdays
Now Showing in the Gallery
Manzanita Arts Emporium is filled with the works of these fine artists . . .
Gary Rose, Mountain Ranch
Cate Culver, Mountain Ranch
Janet & Andy Trinkle, Glencoe
Roberta Hughes, Sutter Creek
Patty Payne, Sheep Ranch
Giles Parish, Campbell
James Aarons, Mokelumne Hill
Kevin Brady, Mokelumne Hill
Sharon (Shay) Baker
Paul Neal
Ty Childress